The first edition of Prostate Recovery MAP – Men's Action Plan sold out. Twice. Then the second edition did the same. Now we have the third edition released in May 2020.
The advances in prostate cancer treatment and survival rates demanded an update. This third edition includes more on pelvic floor exercise training to improve continence and erectile function PLUS strength, fitness and general health  including  prostate-specific  nutrition.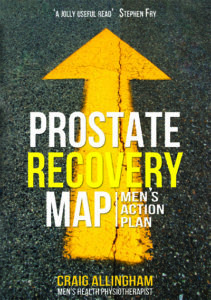 All men can work on their recovery to the point of overcoming the side effects of treatment or at least come to terms with where they have arrived. Then focus on the positive aspects of their relationships, work, recreation and what ever gives them fulfillment. The feedback from the earlier editions and from my clinical work tells me that almost all men who give this program a serious effort will make significant gains in both continence and erectile response.
This book won't do the work for you but it will steer you in the right direction and give you the tools to make a difference.
Title: Prostate Recovery MAP – Men's Action Plan
Edition: 3rd
Author: A/Prof. Craig Allingham
ISBN: 9780987076687
Publisher: Redsok International
Date of Release: May 2020
Orders of 10 or more books will receive a 30% discount.