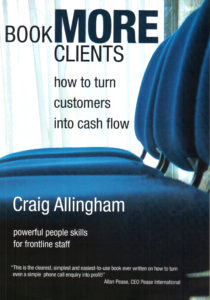 The art of converting customers into sales and clients into cash flow. Frontline skills for all customer facing staff.
This book details the typical and unusual situations that arise at service businesses and how to deal with them. The objective is to marry superior customer service with quality service delivery to the ultimate benefit of all parties. Written by Craig Allingham – a physiotherapist with over 30 years in professional practice.
'This is the clearest, simplest and easiest-to-use book ever written on how to turn even a simple phone call enquiry into profit' Allan Pease, International author and communicator.
Perfect for health professionals, beauty salons, hairdressers, massage, day spas, therapists, brokers, realtors, doctors, podiatrists, trainers and veterinarians
Book More Clients – turning customers into cash flow
ISBN 978-0-9803999-3-6
Price $60.00 AUD (plus shipping)
'This book is our practice bible – for teaching and improving customer service skills throughout the organisation'
Shira Kramer, Be Active Physio, Prahran, Vic.
Dimensions:
27 cm × 22 cm × 0.9 cm